Overview
We create opportunities for members of the public to engage in photography in all its diversity and to participate in creative opportunities.
The participation programme consists of talks, gallery tours, in house activities, community collaborations, skills based training and professional development for emerging artists and photographers.

We offer gallery talks and tours for schools, colleges and community groups which provide a unique insight into our exhibitions. These are free.
In line with our new safety guidance and to ensure the safety of our staff and visitors, social distancing procedures are in place within the gallery, therefore group numbers are limited to 15 while COVID-19 safety measures are in place.
Group visits can be booked for Thursday and Friday mornings, with a minimum of five days notice. Other times may be available by arrangement.
To request a group visit please email john@streetlevelphotoworks.org.
We also offer bespoke workshops and training for groups and individuals, to discuss prices and your future requirements email Iseult Timmermans (Education and Development Coordinator)
Govanhill Photo Trail
In August 2020 we collaborated with photographer Simon Murphy to showcase the diverse and vibrant area of Govanhill with a series of portraits which were displayed in windows as part of a photo trail during the Govanhill International Festival 2020. For more information on the project click here.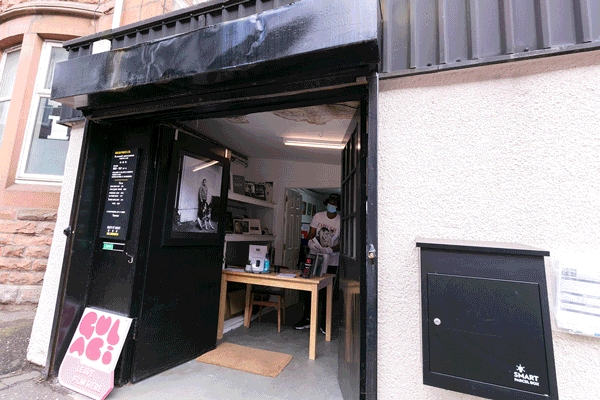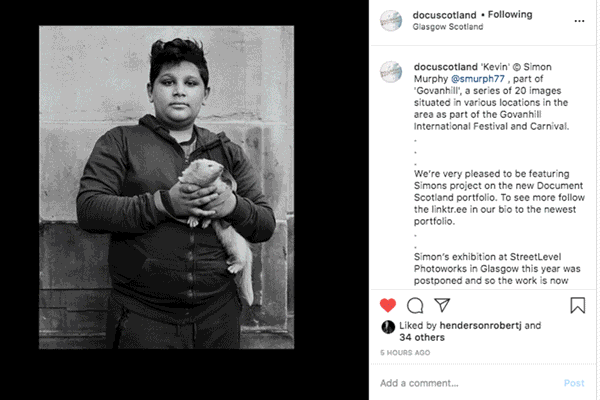 Street Level Online
Below features a series of recent online resources and talks. Some viewable and downloadable PDFs include our Introduction to Photography booklet which features 10 Scottish based photographers we have worked with; Traces newsletter, profiling some of the results from a short artist residency in the East End of Glasgow and two Photo-Recipe Cards that were made during the first lockdown and shared widely from our Friends and Members Lockdown group. The cards detail anthotype processes that utilise the photosensitive properties of plants to creative a light sensitive emulsion from household ingredients.
The following videos are recordings from our livestream events held recently with a diversity of voices and approaches around and within photography. To view the full programme visit our Youtube channel.
Photography on Screen
Photography on Screen is a series of online resources presenting photography to new audiences in a digital format. These can be enjoyed by all, and used also as a teaching resource in the classroom or at college. Produced in partnership with The Screen Machine, Scotland's mobile cinema, which serves over 40 remote and island communities across the Highlands and Islands and the west coast of Scotland. Available to watch here or via our YouTube channel.
Bitesize
Aimed at supporting teachers delivering higher photography: Scottish based artists Arpita Shah and Jeremy Sutton Hibbert share some of their creative and technical experiences. Both adopt contrasting styles in their work covering themes such as identity, migration, culture and environmental issues

View sections from Arpita's and Jeremy's presentations below.

Archive Projects
View a selection of our other archival work in the links below: