Article
Before the lockdown we organised a panel session to celebrate the life and legacy of Oscar Marzaroli and launch our exhibition publication. Whilst it wasn't possible for the event to take place in the gallery, over the coming weeks we will share the recollections and anecdotes on Oscar Marzaroli from photographer Alan Crumlish, creative designer Alistair McCallum, bookshop proprietor Jennie Renton, archivist Carole McCallum and film producer Paddy Higson. This week we are sharing the recollections of film and photography historian David Bruce.
Remembering Oscar – David Bruce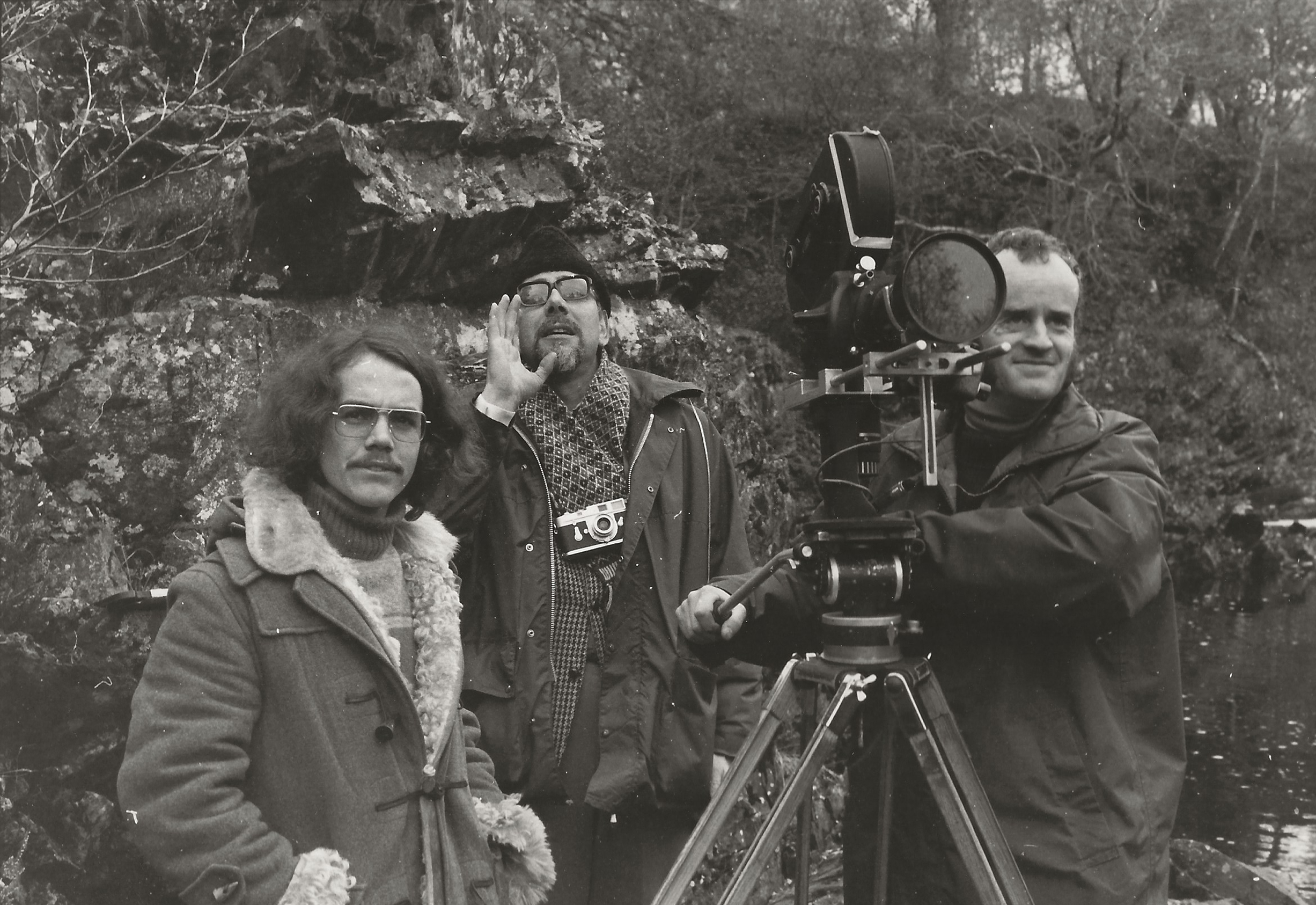 Michael Coulter, Oscar Marzaroli and David Peat working on an Ogam Film in the Hghlands circa. 1973, courtesy of Trish Peat.
Remembering Oscar comes down to two essential things. The first is the friendship of a big, slightly shambolic guy whose greeting was to finger your ear-lobes. Affection.

The second is the work. Not just the Glasgow images, which stand out even when viewed in company with the images made by so many others – Hardy, McKenzie, Brandt, and his friend David Peat – but the whole canon, landscape, portraits, the lot. Admiration.

I first met Oscar in 1962 at Templar Films in Lynedoch Street, Glasgow. He had been on Seawards the Great Ships. The joke was that the film had two Oscars – Marzaroli and the little gold Hollywood one. For it, he had walked high on the big crane, as it moved, and you can see him in the movie. He hated heights and said he could only have done it for that one director, Hilary Harris. I spent an hour or two with Oscar in another bleak exposure, at night, on the outside of Kinnaird Head lighthouse in Fraserburgh for Beyond the Grampians; and was with him on The Big Mill where the threat was from heat stroke, rather than pneumonia. You get to know someone in these circumstances.

On all of these films, and the many others he worked on, shot, or directed, the still camera was always to hand, resulting in thousands and thousands of quality images. This duality, both still and in restless motion, as well as Oscar's remarkable range of visual and cultural references lightly worn, put him in a class of his own. And the results, the legacy, the 'Snaps', as he called them, are ours, and posterity's. Thank you, Oscar. Gratitude.- David Bruce