Article
Before the lockdown we organised a panel session to celebrate the life and legacy of Oscar Marzaroli and launch our exhibition publication. Whilst it wasn't possible for the event to take place in the gallery, over the coming weeks we will share the recollections and anecdotes on Oscar Marzaroli from creative designer Alistair McCallum, bookshop proprietor Jennie Renton, film producer Paddy Higson, archivist Carole McCallum, film and photography historian David Bruce, and beginning with this piece from photographer Alan Crumlish.
Remembering Oscar – Alan Crumlish


Marie Claire Marzaroli & Alan Crumlish at the opening reception of Oscar Marzaroli at Street Level

I first met Oscar during the '70s as a student in Glasgow. I would often visit my brother Brian, who at the time was Oscar's film editor at Ogam Films in Park Circus, where the first thing to strike me were sensational images - especially of the Castlemilk Lads - which hung as very large prints in Ogam's entrance. In person Oscar, like his prints, conveyed a very large presence which seemed to fill the space he occupied, but this belied a quieter and gentle personality that somehow, almost magically, enabled him to blend unnoticed into his surroundings when he was rapt in "snapping" (his words) his 'fly on the wall' photographs which so vividly captured everyday Glasgow life.
Mostly these visits were on a Friday, when the norm would be to break for 'lunch' and head out the back door, collecting colleagues from Tree Films en route, to sojourn for the remainder of the afternoon in the Halt or Arlington bars where Oscar, like a benevolent godfather figure, would revel in sharing anecdotes and having a laugh with what at the time was almost the whole Scottish film industry.
He was a very generous soul and a few years later, as a young aspiring photographer, I was extremely grateful when Oscar offered to come and see my first hanging of an exhibition in Strathclyde University. He showed genuine interest in my somewhat naïve pictures, discussing them for almost two hours with very constructive comments and vast amounts of encouragement which were invaluable in shaping my confidence.
Brian and I visited Oscar at home shortly before he died where, despite being in bed, he remained philosophical and vibrant, even in the face of final illness.
After his death, I was very flattered to be invited by Anne as the only photographer to join the Trust, set up to consolidate Oscar's unique contribution to Glasgow photography - even more so to be accorded the responsibility of printing many of the images for his posthumous book Glasgow's People. It was somewhat daunting to have had a dozen or more full negative files entrusted to my care, but a real joy and privilege to connect so personally to Oscar's work. It afforded me an insight which stays with me to this day. - Alan Crumlish, April 2020
Originally qualified in architecture, Alan Crumlish worked as a Glasgow based freelance photographer for over 30 years. The scope of his work while varied centred on architectural, social (with particular reference to learning difficulties and urban regeneration), and theatre photography working concurrently for many theatre companies including Scottish Ballet , Scottish Opera, Wildcat, Mayfest, CCA, and as photographer for Glasgow City of Culture (1990). He now lives in the Borders. His web site clickonglasgow.net contains 6500 images of Glasgow and it's environs and context.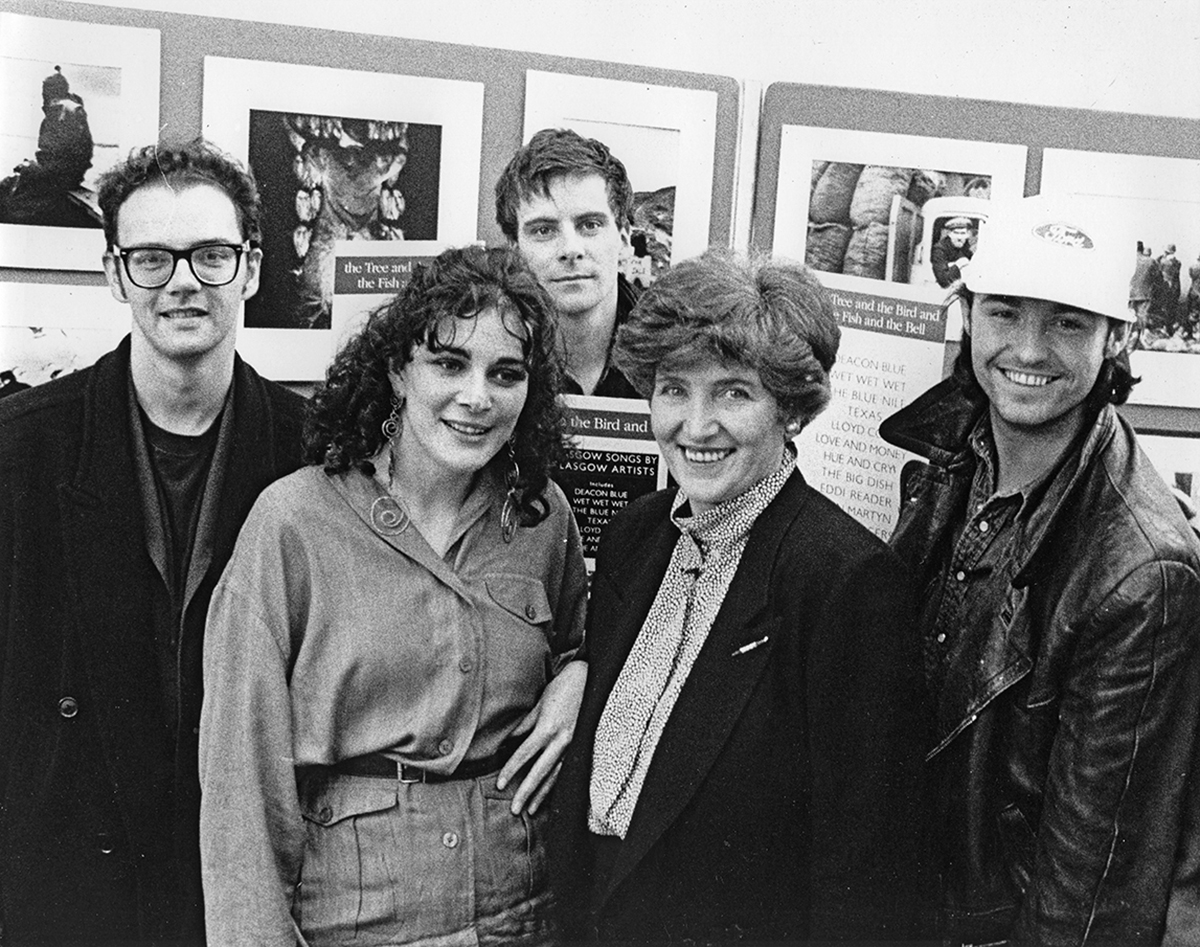 Left to Right: Pat Kane (Hue & Cry), Oscar's daughter Marie Claire, Ricky Ross (Deacon Blue),
Oscar's wife Anne & Marti Pellow (Wet Wet Wet) at the launch of 'Songs for Oscar' at Renfrew Ferry in 1991,
coinciding with the album 'The Tree and the Bird and the Fish and the Bell - Glasgow Songs by Glasgow Artists'.
© Alan Crumlish